Our dentists can perform everything from extractions to sinus lifts to help you keep your smile healthy.
Oral Surgery Surrey, BC: Tooth Extractions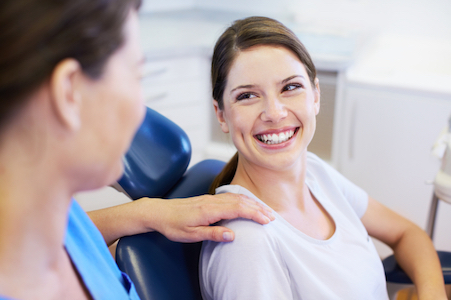 Extraction is a last resort, but sometimes it is necessary. Badly infected teeth can jeopardize the health of your surrounding teeth and gums.
Wisdom Teeth Removal
The best time to have wisdom teeth removed is during a patient's late teenage years or early twenties. Immature wisdom teeth are smaller, so surgery is less complicated and potentially less painful. If your child's wisdom teeth have not started to erupt, we will use x-ray imaging to locate them and determine if it's time to have them removed.
Sinus Lift
If you're getting dental implants in your upper jaw, you may need a sinus lift surgical procedure first. During this procedure, our oral surgery team will add new bone between your jaw and maxillary sinuses. In order to make room for this bone, your sinus membrane is moved upward. A successful sinus lift will help create healthy bone mass to support dental implants.
Soft Tissue Surgical Procedures
At our Surrey dentistry office, we use our Odyssey Diode Dental Laser to perform a variety of soft tissue surgical procedures. This modern dental technology facilitates quicker, more comfortable healing as well as cosmetic sculpting of the gum line.
Some of the dental procedures Dr. Bhatha, General Dentist, performs using the dental laser are:
Reducing oral bacteria and other flora
Recontouring interproximal tissue
Soft tissue debridement
Reducing hyperplasia
Healing for split lips
Treating inflammation around implants
Incising and draining abscesses
Recovering dental implants
Troughing for impressions
Crown lengthening
Don't Be Afraid to Smile!
If you have questions about your upcoming oral surgery, please let our dental staff know. We're always happy to take the time to answer your questions and ease your mind about the dental care you need.
Questions About Our Oral Surgery Surrey Services?
If you are in need of oral surgery in the Surrey area, call our Surrey dentist office today to schedule your appointment.
Gum disease is an inflammation of the gum line. Screening and treatment are available at our Surrey, BC Canada dentist office.