White Rock Dental Clinic Owner & Clinician: Dr. San Bhatha, General Dentist
Doctor of Dental Medicine, 2001; Vancouver, British Columbia, UBC Dental School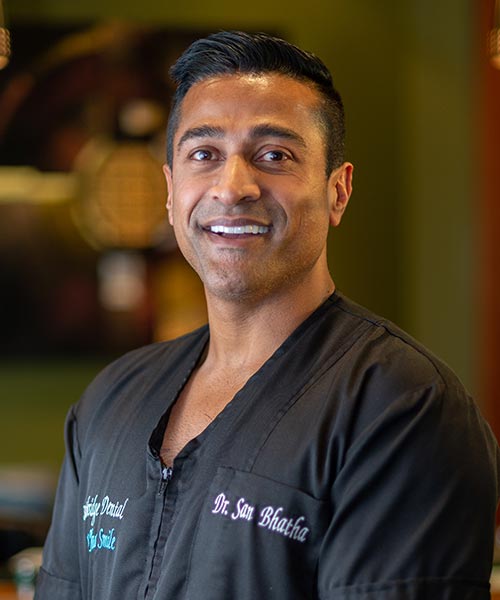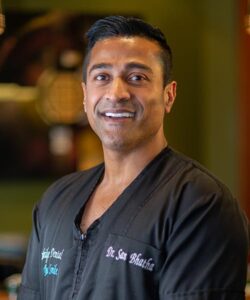 After graduating from UBC Dental School of Vancouver, BC, Canada in 2001 with a Doctor of Dental Medicine degree, Dr. San Bhatha, General Dentist worked as an associate dentist until 2005 at which time he took over ownership of a practice in downtown Vancouver. In 2006, he designed and created his second practice, Southridge Dental, your White Rock dental clinic in South Surrey. And in 2010, he and his wife built a new home in South Surrey where they have been living happily ever since. In 2011, he sold his downtown practice to focus solely on Southridge Dental.
Dr. San Bhatha, General Dentist considers giving back and helping others as one of his main purposes in being a community dentist. He has donated to local schools in many ways including backpacks, winter boots and winter jackets, dry grad fundraisers and even just speaking to Gr11s and 12s about his career hoping to inspire the youth to reach for their dreams. He and his team also raise money for the Surrey Food Bank throughout the year as well as supporting local women's shelters and recovery homes. He and his family have also slept out in order to raise money and awareness for homeless youth with funds going to both Youth Unlimited as well as Covenant House BC.
Married with two children, Dr. San Bhatha, General Dentist spends much of his leisure time in family activities. He enjoys an active life, whether it be road biking with his wife and friends, rollerblading the seawall, hiking the local mountains, playing basketball and volleyball with his kids, or biking with his family. He and his family have traveled extensively throughout the world and continue to seek new destinations to explore.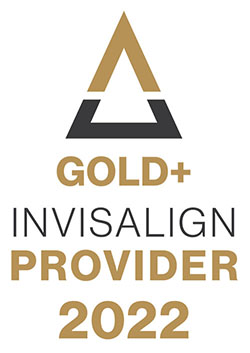 Dr. San Bhatha is a Gold Plus Invisalign Provider. Learn more. 
Clinician: Dr. Aman Dhaliwal, General Dentist
Doctor of Dental Medicine, 2017; Sydney, NSW, Australia, The University of Sydney

Master of Physical Therapy, 2006; Vancouver, British Columbia, The University of British Columbia

Bachelor of Human Kinetics, 2003; Vancouver, British Columbia, The University of British Columbia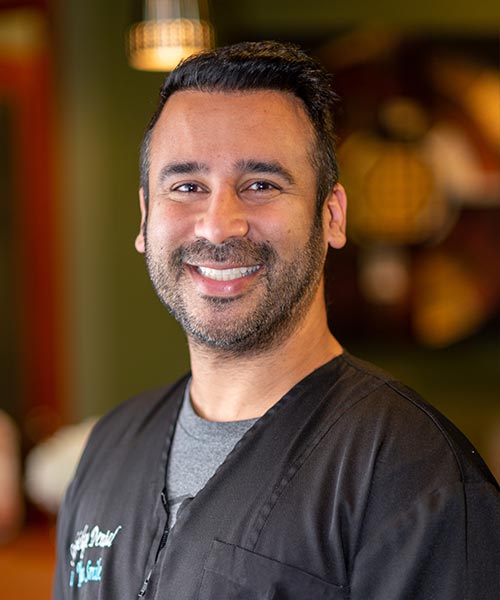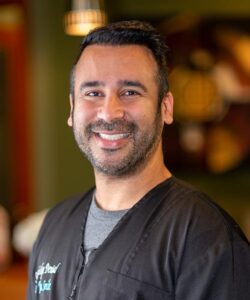 Dr. Aman Dhaliwal is a general dentist who first completed a bachelor's degree in kinesiology and then a master's degree in physiotherapy from the University of British Columbia in 2006. After practicing as a physiotherapist for a number of years he made the decision to pursue a career in dentistry. He completed his Doctor of Dental Medicine degree in 2017 at the University of Sydney and joined our team here at your White Rock dental clinic. He is now happy practicing general dentistry. Since April 2020, he has been volunteering as a dentist on the east of Vancouver and he is also a committee member for the College of Dental Surgeons of British Columbia. He has taken post graduate courses in oral surgery, orthodontics, implants and facial aesthetics and is now excited to provide Invisalign and Botox services and Implant treatment. Dhaliwal believes that comprehensive and successful dental health involves working together with patients and truly goes beyond treating just teeth. His desire and goals are to make a positive difference in the lives of his patients, through a welcoming and relaxed experience.
Clinician: Dr. Ramneet Taggar, General Dentist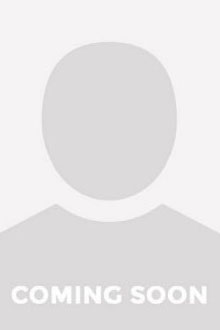 Dr. Ramneet Taggar completed her Bachelor of Sciences in Biology at the University of British Columbia. Following this, she earned her Doctor of Dental Medicine also from UBC. Growing up in this very neighbourhood of Surrey, she was ready to move back and provide comprehensive care to patients requiring all different disciplines of dentistry.
Ramneet believes in communicating with patients and providing individualized comprehensive treatment plans to address all patient concerns. With a calm demeanour, she strives to provide the highest quality of care and patient experience.
Outside of dentistry, Ramneet loves to indulge in her favourite sports soccer and basketball, and of course, binge-watch her favourite Netflix shows!