At Southridge Dental, we want to help everyone enjoy a bright, healthy smile. If you would like a whiter smile, Dr. Bhatha offers Ultradent's Opalescence® take-home teeth whitening kits at our Surrey BC, Canada dentist office.
How Does Opalescence Teeth Whitening Work?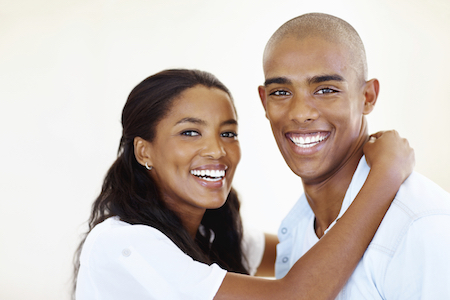 If you're an ideal candidate for teeth whitening, Dr. Bhatha will create customized teeth whitening trays that ensure an even application of whitening gel.
Opalescence whitening gel works through its active ingredient, carbamide peroxide, which breaks down to hydrogen peroxide, the active bleaching agent that eliminates stains from your teeth.
Opalescence whitening gel is available in multiple concentrations - 10%, 15%, 20%, and 35%. All concentrations will achieve the same brilliant results over time, but Dr. Bhatha will recommend the best formula for you based on your goals and particular oral health needs.
Is Opalescence Teeth Whitening Right For Me?
Teeth whitening is generally safe and most people tolerate it well. If you have intact teeth, good oral health, and are not pregnant, take-home Opalescence teeth whitening can brighten and whiten your smile.
Take-home whitening is convenient, allowing you to whiten your teeth at home at your leisure. With your custom trays, you can maintain your results for years to come. We are happy to order refills of whitening gel for you at any time.
Schedule Your Opalescence Teeth Whitening Consultation With Southridge Dental Today!
If you have questions about Opalescence teeth whitening, or any other of the cosmetic dentistry services we offer at Southridge Dental, give our Surrey dentist office a call.
A consultation with Dr. Bhatha can be the perfect way to answer all of your questions and help you decide if take-home teeth whitening could be the best way to brighten your smile!
Surrey, BC Canada Cosmetic Dentistry. Get The Smile You've Always Wanted! Open late weeknights and on Saturday. Call & Schedule Your Next Visit