San Bhatha, DDS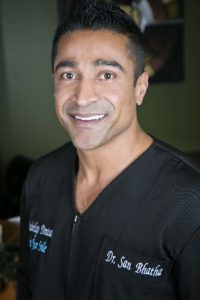 After graduating from UBC Dental School in 2001, Dr. Bhatha worked as an associate dentist until 2005 at which time he took over ownership of a practice in downtown Vancouver. In 2006, he designed and created his second practice, Southridge Dental in South Surrey. And in 2010, Dr. Bhatha and his wife built a new home in South Surrey where they have been living happily ever since. In 2011, Dr. Bhatha sold his downtown practice to focus solely on Southridge Dental.
Dr. Bhatha became an active member and eventually one of the board directors for the Vancouver & District Dental Society.in 2006 and in May of 2010 was elected President of the Vancouver & District Dental Society.
In 2007, Dr. Bhatha was a contributing editor to the Vancouver View Magazine, providing monthly editorials on day-to-day issues related to the proper care of teeth and gums. He was an active member of a local study club for five years, mentored by Dr. John Carpendale, an experienced specialist in prosthodontics.
He is currently active in many different study clubs: VDEC Elite Dentists mentored by Dr. Wilson Kwong, Bites Implants mentored by Dr. Mark Kwon and Bernard Jin, Tri Cities Digital Dentistry mentored by Dr. Bobby Birdi and Dr. Faraj Edher, PTIFA Botox/Filler Study club mentored by Dr. Warren Roberts, and the Healthy Starts Study club.
Dr. Bhatha and his team are very proud of the awards he has received over the years including the Envisions Fan Choice award for Best Dentist, Three Best Rated Cosmetic Dentists, Consumer Choice Awards Best Cosmetic Dentist and has even been ranked #1 on RateMds for top dentist in Surrey.
Recognizing that dentistry is a profession that is constantly evolving, Dr. Bhatha and his staff take pride in remaining current within the field by regularly attending continuing education workshops on the latest technology, products and techniques.
Dr. Bhatha considers giving back and helping others as one of his main purposes in being a community dentist. He has donated to local schools in many ways including backpacks, winter boots and winter jackets, dry grad fundraisers and even just speaking to Gr11s and 12s about his career hoping to inspire the youth to reach for their dreams. Dr. Bhatha and his team also raise money for the Surrey Food Bank throughout the year as well as supporting local women's shelters and recovery homes. And Dr. Bhatha and his family have also slept out in order to raise money and awareness for homeless youth with funds going to both Youth Unlimited as well as Covenant House BC.
Married with two children, Dr. Bhatha spends much of his leisure time in family activities. He enjoys an active life, whether it be road biking with his wife and friends, rollerblading the seawall, hiking the local mountains, playing basketball and volleyball with his kids, or biking with his family. He and his family have traveled extensively throughout the world and continue to seek new destinations to explore.
Aman Dhaliwal, MPT, DMD
Dr. Dhaliwal completed a bachelor degree in kinesiology and master degree in physiotherapy from the University of British Columbia in 2006. After practicing as a physiotherapist for a number of years he made the change to dentistry.
He completed his doctor of dentistry degree at the University of Sydney and it was the best decision he made.
Dr. Dhaliwal believes that comprehensive and successful dental health involves truly working with people, and goes beyond treating teeth. He has taken post graduate training in Invisalign and wisdom tooth extraction and is looking forward to continually increasing his skill set.
His desires and goals are to make a positive difference in the lives of his patients by providing exceptional dental health care services.