San Bhatha, DDS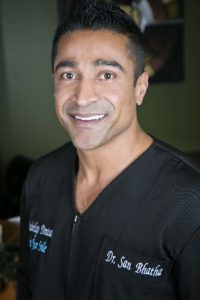 After graduating from UBC Dental School in 2001, Dr. Bhatha worked as an associate dentist until 2005 at which time he took over ownership of a practice in downtown Vancouver. In 2006, he designed and created his second practice, Southridge Dental in South Surrey. In 2011, Dr. Bhatha sold his downtown practice to focus solely on Southridge Dental.
Dr. Bhatha is currently a member of both the Canadian and American Academies of Cosmetic Dentistry, and in May of 2010 was elected President of the Vancouver & District Dental Society.
Dr. Bhatha is the only General Dentist in all of Surrey, South Surrey and White Rock with the ranking of Premier Provider and Teen Invisalign Provider by Invisalign. He is also a certified CEREC (computerized one-appointment crowns) practitioner.
In 2007, Dr. Bhatha was a contributing editor to the Vancouver View Magazine, providing monthly editorials on day-to-day issues related to the proper care of teeth and gums. He was an active member of a local study club for five years, mentored by Dr. John Carpendale, an experienced specialist in prosthodontics.
Recognizing that dentistry is a profession that is constantly evolving, Dr. Bhatha and his staff take pride in remaining current within the field by regularly attending continuing education workshops on the latest technology, products and techniques.
Married with two children, Dr. Bhatha spends much of his leisure time in family activities. He enjoys an active life, whether it be working out at his local gym, rollerblading the seawall, hiking the local mountains, playing soccer, or biking with his family. He and his wife have traveled extensively throughout the world and continue to seek new destinations to explore.
Aman Dhaliwal, DDS
Bio info coming soon!